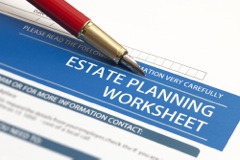 In last week's blog, we discussed the potential hazards your heirs may face by not planning ahead to manage the chain of custody regarding your digital assets by incorporating them into your estate plans. Whether they have sentimental or monetary value, managing the inheritance of your digital footprint is as critical as your other real property.
It is advisable to consult an attorney for help with your estate plan and your digital footprint. However, here are seven tips for how to prepare now for the handling of your digital assets after death.:
Create an Inventory: Create inventories of your electronic data, with log-on IDs and passwords will ensure that anything you own online is accounted for and can be managed. Like other sensitive data, you need to keep that information somewhere safe; and keep it current and secure.
Use a Password Manager: Programs like LastPass allow you to inventory and share access information with your executor without having to disclose the information in a public document like a will. By having one password that catalogs your digital assets and how to access them, it's like having a master key and digital net worth statement all in one.
Consider an Online Vault: Cloud services like Dropbox or Everplans will allow your executor to have access to all your digital estate planning documents, insurance planning documents, tax returns, etc., in one place. It makes the executor's job much easier.
Get Specific: Write your digital-asset plan into your estate documents. Be very clear about it rather than relying on the generic powers of an executor or a general definition of assets to assume that includes digital assets. The more specific you are about your intent and that you want your executor to have access, the better.
Detail and Parcel Out: Consider writing both a broad statement of intent for digital assets as well as specific directions for each account. Create a memorandum addressed to your executor and heirs indicating the intentions regarding specific digital accounts. However, to avoid the problem of forgetting to include an account, you need two statements, because technology is dynamic — and because you may have several accounts unaccounted for in your plans — it's recommended that you include a general statement of intention to encompass all other accounts — past, present, and future — belonging to the decedent.
Specificity and Consideration: Think carefully and be specific about what you want your executor to have access to. Do you want him to have the ability to read all of your email messages? If not, be clear about it.
Pick your Executor Carefully: Consider who you are choosing to grant information to as they'll have access to your online accounts. Remember, also, that they'll need at least some tech savvy to deal with those accounts because they're going to have access to some very personal information.
For more information on incorporating digital assets into your estate plans, contact the Estate Planning attorneys at Resnick Law online or by calling (248) 642-5400.