There seems to be no dearth of stories in the news abou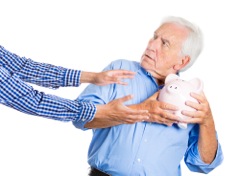 t unscrupulous con artists bilking unsuspecting victims of their money, especially when it comes to senior citizens.
Earlier this month, an Ottawa County man was charged with more than 25 felonies and faces at least 30 years in prison for allegedly running a Ponzi scheme between 2010 and 2015.
Michigan Attorney General Bill Schuette filed the charges on June 7 against Scott Rookus of Jenison, a town near Grand Rapids. The AG alleges that between 2010 and 2013, Rookus solicited and obtained investments of about $1.5 million for his holdings company, New Haven Holdings. His customers, many of whom were senior citizens, were told that earnings from their investments would come from the profits of Rookus' enterprises, the complaint said.
As is the crux of a Ponzi scheme, Rookus allegedly used money from newer investors to issue fraudulent returns to some investors in an effort to cover his tracks. It would appear that Rookus was the primary beneficiary of his investors' holdings. He allegedly used the investor funds to pay personal expenses, like his children's private school tuition and to retire tax liens against him. The scheme was only uncovered after Rookus filed for personal bankruptcy in March 2015 and his investors discovered they had lost everything. Schuette said he hopes the case will provide some "relief and repayment" for those affected.
The alleged perpetrator's story is just a hyper-local version of what disgraced financier Bernie Madoff was able to accomplish, but over the course of decades and at a cost to investors of $20 billion. How can one protect themselves from falling prey to hucksters? It's not just senior citizens who are at risk. Young and old alike can easily become a mark for a clever crook. The best defense against becoming a victim of financial fraud is to have the benefit of good counsel.
When looking to change your investment strategy or when making your estate plans, a good attorney is the best insurance money can buy. The smell test is sometimes passed more easily than we'd like to think. A good attorney should be able catch a noisome odor every day of the week.
For more information on how our Asset Protection and Estate Planning attorneys can help you from becoming a victim, call Resnick Law at (248) 642-5400.