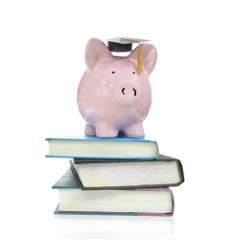 While many "school choice" proponents cheered President-elect Donald Trump's nomination of Republican donor, businesswoman, philanthropist and Michigan native Betsy DeVos as education secretary, there are some questions about what will happen regarding student loan debt relief.
Trump's higher education policies have yet to be defined. According to the Associated Press, during an October speech in Columbus, Ohio, Trump proposed an income-driven student loan repayment program capping repayment at 12.5 percent of a borrower's income and forgiving loans after 15 years of payments. Currently, the most widely available income-driven repayment plan offered by the U.S. Department of Education, which underwrites all federal higher education loans and is known as Revised Pay As You Earn, or REPAYE, caps income levels at 10 percent and loans are forgiven after 20 years of payments.
The AP reports that Trump has also said he plans to hold colleges accountable for investing in their students, cutting tuition and reducing costs related to federal regulations. In interviews, the President-elect has indicated support for a system where banks, instead of the government, would issue federal student loans. Policy analysts say, some proposals to the current federal student loan system would require congressional backing and action, but noted that the president can use executive action to push through other changes.
Sen. Lamar Alexander (R-Tenn.), chair of the Senate Committee on Health, Education, Labor & Pensions, posted a statement earlier this month, reported by the New York Times, saying that he looked forward to working with DeVos "on the upcoming reauthorization of the Higher Education Act, giving us an opportunity to clear out the jungle of red tape that makes it more difficult for students to obtain financial aid and for administrators to manage America's 6,000 colleges and universities." Not everyone is in favor of Trump's choice. Interestingly, the American Federation of Teachers is opposed to DeVos for this position, largely because she has never been a teacher herself.
K-12 school choice — allowing the use of public funds to pay for the school of a student's choosing, be it public, private or charter — is a cornerstone of DeVos' political and educational interests. DeVos is a supporter of charter schools and voucher programs. She is on the board of directors of the Great Lakes Education Project in Michigan and is the chair of the American Federation for Children, which both favor school choice.
Trump called DeVos, 58, a "brilliant and passionate education advocate" in a news release on Nov. 23, and included his plans to "reform the U.S. education system and break the bureaucracy that is holding our children back so that we can deliver world-class education and school choice to all families."
Some Michiganders may remember when DeVos and her husband, Dick, led a failed ballot effort in 2000 to amend the Michigan constitution that would have allowed vouchers for students to attend private schools using taxpayer dollars. Later, DeVos and her husband formed the All Children Matter PAC to support pro-voucher candidates.
In terms of tangible student loan debt relief, it should be interesting to see what the incoming administration presents as a policy to reduce the burden faced by many college graduates entering the workforce with debts that often exceed $30,000, according to the Dept. of Education.