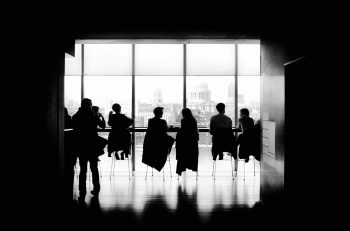 When two or more people come together to form a business, they may focus on many different issues that they anticipate will arise as they run the business. One of the main issues that should be discussed is a plan for how the business will be sold, dissolved, or inherited in the event one of the partners becomes disabled, incapacitated, or dies. Businesses can plan for these possibilities through the use of buy-sell agreements.
Buy-sell agreements are enforceable contracts that govern what happens when a business co-owner leaves a business. In these agreements, the business owners agree to an exit strategy for a leaving owner, including buying out his or her interest in the business at a pre-agreed price. Instead of a guaranteed purchase, some buy-sell agreements give the remaining owners a right of first refusal to buy the business interest of a departing owner.
Buy-sell agreements can be drafted as part of a business's organizational documents or as separate documents. Some businesses are required to have buy-sell agreements in place as a matter of law.
The value of negotiating this kind of agreement before the actual event causing a partner to leave takes place is that all parties will come to the negotiation on more or less the same footing. If it is left until the last minute, the departing business owner or his or her estate may feel that the terms negotiated for the sale of his or her interest in the business is not fair. Alternatively, the remaining business partners may feel the departing business owner is making too many demands. With each side feeling dissatisfied, lawsuits to resolve the issues are more likely to be filed.
Buy-sell agreements also provide predictability on business continuation, which is valuable to shareholders and customers. Customers are likely to face fewer interruptions in service when the business is transitioning out an owner. The buy-sell agreement also provides a market for the sale of the business interest where it may not otherwise exist.
There are several methods used to determine the value of a business for purposes of determining the future price to be paid when a business owner leaves. The owners can agree on a fixed price, set forth a detailed formula to determine the sale price of business shares later on, or use an appraiser. The method used for each business depends on the kind of business and on the method the owners agree to use. In some cases, the shareholders may be required to hold regular meetings to set or review the sale price. This can help ensure that the sale price always reflects a fair market value.
Contact an Experienced Business Attorney
There are many legal considerations that go into drafting a good buy-sell agreement. This is a document that should be drafted by an experienced business attorney who can offer legal advice on any issues that may arise as the document is prepared. For more information on how an experienced business attorney can help you prepare a buy-sell agreement, contact us at Resnick Law, P.C., in Bloomfield Hills and Detroit, Michigan, to schedule a consultation.
(image courtesy of Samuel Zeller)