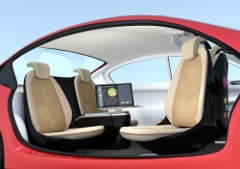 Michigan, in a race with Silicon Valley for supremacy in autonomous autos, enacted legislation in December that it says is the first in the U.S. to establish comprehensive regulations for testing, use and the eventual sale of self-driving cars.
Gov. Rick Snyder signed a package of bills into law defining how self-driving cars can be used on public roads in testing and commercial deployment, the Michigan Economic Development Corp. said in a statement.
The series of bills allows public road testing of vehicles without steering wheels, gas or brake pedals or any need for human control — an important distinction that aims to propel Michigan ahead of California, a hotbed of driverless car development. (For instance, California rules prohibit the use of fully autonomous driverless cars that don't have a steering wheel or a brake pedal—like the prototype developed by Google.) It also lays out rules for how self-driving cars can be sold to the public once the technology has been tested and certified.
"Michigan is the global center for automotive technology and development," Snyder said in the MEDC statement. "By establishing guidelines and standards for self-driving vehicles, we're continuing that tradition."
One bill establishes the Michigan Council on Future Mobility, an arm of the Michigan Department of Transportation that will recommend policies to set industry standards. The council will regulate connected vehicle networks and how traffic data, such as vehicle crashes, will be collected and shared.
Michigan business leaders and politicians have been vocal in their efforts to keep Detroit at the center of automaking even as Silicon Valley heavyweights Google, Apple and Uber are accelerating research into robot rides. In preparing the legislation, Michigan lawmakers received input from General Motors Co., Ford Motor Co., Fiat Chrysler Automobiles NV, Toyota Motor Corp., Google, Uber and Lyft Inc., according to the economic development agency, which is financed by public and private funding.
State officials believe Michigan's new laws will be more attractive to companies involved in development, helping lure research here over California's more restrictive laws, according to Michigan Department of Transportation Director Kirk Steudle. The MDOT director told Fortune Magazine in an interview that California's over-regulation is unnecessary.
"We view this legislation as Michigan getting government out of the way of technology and letting it be deployed when it's ready, but at the same time in a manner that keeps people accountable for keeping people safe on roads," Steudle said in the interview. "There's 100 years of history of automobile companies in Michigan putting test vehicles on the road and putting safe vehicles out."