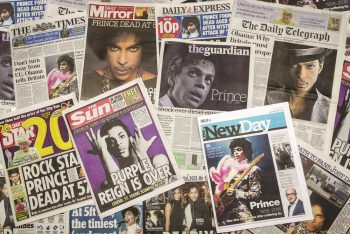 When pop music legend Prince died last April, the world was shocked and the grief has been palpable. The second day lead that came out of his death was the fact the superstar died without a will — almost anathema for someone whose estate is reported valued at between $150-$300 million.
Because of this huge oversight by the artist and his financial advisors, it's now likely that his surviving relatives will be battling it out in the Minnesota courts for years over how to divide the estate.
Unfortunately, it turns out that Prince, whose full name was Prince Rogers Nelson and was found dead of an apparent drug overdose on April 21, 2016 at his estate in Paisley Park home and studio in Minneapolis, was not alone in a failure of planning.
According to a survey by Rocket Lawyer, 64 percent of Americans don't have wills.
Among his charitable pursuits, Prince regularly gave money to causes related to abuse, adoption, fostering, AIDS & HIV, at-risk youth, cancer, arts, education, family support, health and hunger. However, because he lacked a will or trust, there's no guarantee that any part of his money will support those causes going forward.
Regardless of whether you're a fan of his music or lifestyle choices, there is a huge takeaway for anyone who has assets they hope will be handed down to beneficiaries after their death: you need to think about estate planning.
Whether it's a growing family, accumulated wealth, distribution of assets to charitable causes or a combination of the above, only an estate plan will ensure your hard work does not end up wasted by costly probate and court administration.
A will and proper estate plan could have avoided many of the challenging issues surrounding Prince's estate and guaranteed that his legacy would have forever impacted the causes he cared most about. This unfortunate situation reminds us all that there is great benefit to putting your estate in order when you can.
For more information on estate planning, creation and administration of trusts and other legal instruments crafted to ensure your wealth outlives you, contact the Estate and Trust attorneys at Resnick Law by clicking here or by calling us at (248) 642-5400.