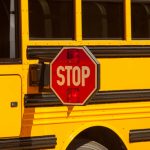 The beginning of September brings with it the promise of the crisp, cool days of fall, the green of summer melting into the golden hue of autumn and, of course, the re-emergence of familiar yellow school buses on the road, shuttling their small charges morning and afternoon.
With hundreds of thousands of school children on the roads, it's important to remind ourselves of the rules and regulations that govern our driving with regards to school buses
In 2012, Governor Rick Snyder signed a bill that changed the law about how motorists are supposed to react when they encounter a school bus stopping in front of them.  The previous law allowed motorists to come to a complete stop at an intersection where traffic was being regulated by a police officer, then proceed past the bus "with due caution for the safety of passengers being received or discharged from the school bus."
Senate bill 1030 amended the Michigan Vehicle Code to eliminate this provision, stating instead that "a vehicle operator who fails to stop for a school bus as required or passes a school bus in violation of the Code is responsible for a civil infraction."
The law now requires that drivers stop completely at least 20 feet from a school bus whenever the school bus is stopped and its two red flashing signals are employed.  The driver is allowed to proceed once the bus resumes motion or the visual signals are no longer actuated.
The fine for this type of violation would be not less than $100 and not more than $500.  Additionally, the violator may be ordered to perform up to 100 hours of community service at a school.
Drivers are sometimes confused by what is considered to be a "divided roadway," and what their obligations are to stop when a school bus is stopped in this type of situation.  According to the law,
"The operator of a vehicle upon a highway that has been divided into 2 roadways by leaving an intervening space, or by a physical barrier, or clearly indicated dividing sections so constructed as to impede vehicular traffic, is not required to stop upon meeting a school bus that has stopped across the dividing space, barrier, or section."
According to Sgt. Mark Thompson of the Michigan State Police, "it is not necessary to stop for a school bus stopped on the other side of a divided highway where the road is separated by a barrier, such as a concrete or grass median, island, or other structures that separate the flow of traffic. On five lane roads where there is just a left turn lane, vehicles are required to stop on both sides of the road."
It is also interesting to note that the lights on a school bus which are used to notify other traffic of an upcoming stop must, by law, be activated 200 feet from the stop.
Another way in which we might encounter school children during our travels this fall will be when they are crossing the road near their school on foot, often under the watchful eye of a school crossing guard.  The law has strict regulations regarding obeying a crossing guard:
"A driver of a motor vehicle who fails to stop when a school crossing guard is in a school crossing and is holding a stop sign in an upright position visible to approaching vehicular traffic is guilty of a misdemeanor."
Let's all work together in order to obey the law, and, most importantly, to keep our children safe.