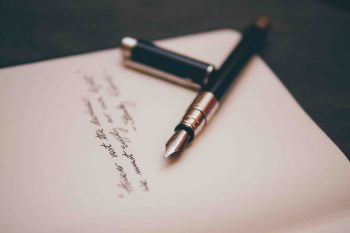 Having a will in place detailing your wishes as to how you want your assets distributed after your death can bring about peace of mind. Some people choose to use an attorney to prepare their wills as part of a larger estate plan. Others may choose to use books or online templates in order to prepare their wills. In some cases, a will may be written by a person who simply writes down another person's wishes. This writing can be considered a valid will in Michigan.
In Michigan, for a will to be valid, it must meet certain criteria. The will must be:
In writing,

Signed by the person writing or directing the writing of the will (known as a testator), or in the testator's name by some other individual.

If another person signs on behalf of the testator, the person has to sign the will in the testator's presence and at the testator's direction.

Signed by at least two witnesses who are present at the signing of the will by the testator, or who sign the will as witnesses after the testator acknowledges his or her previous signature is already on the will.
Generally, wills that do not meet these requirements are not likely to be considered valid. The exception to this is what is referred to as a holographic will. Holographic wills are wills that are written and signed by the testator. Although holographic wills are not accepted in many states, in Michigan, holographic wills are acceptable if the material terms of the will are written in the testator's handwriting.
If a person makes an attempt to write a will and meet the criteria set out above, and for some reason fails to satisfy all the criteria, the will may still be considered valid if it can be characterized as a holographic will. If part of the will is taken from a pre-printed template, but all the material provisions in the will are handwritten, then the will may be initially valid as a holographic will. The other requirement for a holographic will is that it be dated. Holographic wills do not need to be witnessed.
Sometimes, documents that are written by the testator by hand, such as letters or notes, may be introduced as wills if they express a wish to bequeath something to someone after the testator's death. If the document otherwise meets the requirements of a holographic will, and it can be shown that it was the testator's intent to have this document act as a will, then it may be upheld.
Get Assistance When Drafting Your Will
Your will is an important part of your estate plan and its drafting should be given considerable thought. A will should be prepared with a person's general estate plan in mind in order to ensure that the testator's wishes are well executed upon his or her death. In order to prepare a will that is specific to you and your needs, contact Resnick Law, P.C., to consult the skilled estate planning attorneys in Bloomfield Hills and Detroit, Michigan.
(image courtesy of Alvaro Serrano)